Las Vegas Goo Goo Dolls - Double (Package for two)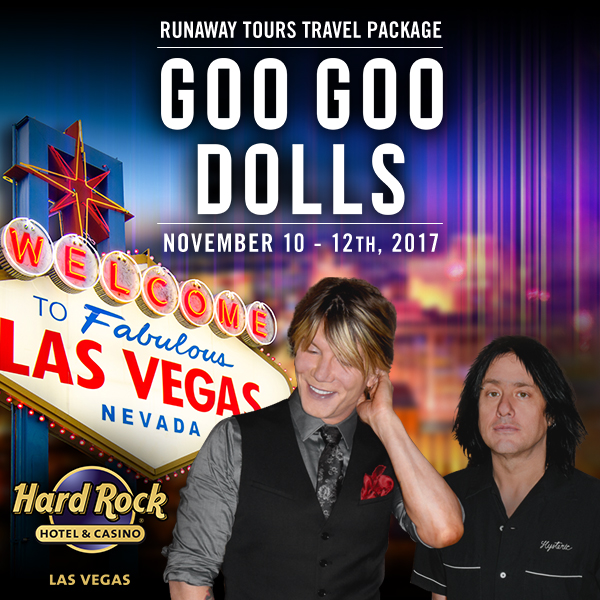 SOLD OUT
Details
Runaway Tours With Goo Goo Dolls To Las Vegas, Nevada
WHERE:
Las Vegas, Nevada
WHEN:
Friday, November 10th – Sunday, November 12th, 2017
PRICES:
$1,655.00 per person Single Occupancy
$1,455.00 per person Double Occupancy (This Package is for 2 people)
$1,255.00 per person Single Package (No Hotel Option)
(Schedule / Events / Locations are all subject to change)
TRIP PACKAGE INCLUDES:
Three Days / Two Night Hotel Accommodations At The Hard Rock Hotel And Casino (Double Occupancy Package)
Day One (Evening) – Welcome Party With DJ, Food and Drinks
Day One (All Day) – Explore Las Vegas And The Fabulous HRH LAS VEGAS
Day Two (Afternoon) – Intimate Storytellers Performance And Q&A With The Goo Goo Dolls. The Performance Will Take Place On November 11th at Vinyl In The Hard Rock Hotel And Casino.
Day Two (Afternoon) – Photo Op With The Goo Goo Dolls, Grouped By Travel Package – Single And Doubles.
Day Two (Early Evening) – After Party with DJ, Food and Drinks
Autographed Picture Of The Goo Goo Dolls
Specially Designed Trip Credential
Custom Trip Lanyard
Fully Escorted By Our VIP Staff
Hotel Internet WI-FI Included
All Taxes & Hotel / Resort Fees Are Included
Additional Details
About The Hard Rock Hotel and Casino – www.hardrockhotel.com
Set 2 blocks east of the Strip, this high-octane, Rock 'n' Roll-themed casino resort is a block from the University Nevada, Las Vegas campus. Accommodations range from ultra-modern rooms with WiFi, minibars, flat-screen TVs and Bose stereo systems to suites with 40-inch flat-screens, huge bathtubs, and living areas. Some suites and villas also feature band-themed decor, private terraces, and wet bars. Perks include a popular music venue with celebrity music performances, outdoor pools with DJs, a fitness room and several nightclubs, bars and restaurants.
About The Vanity Nightclub – www.hardrockhotel.com/party/vanity-nightclub-las-vegas
Located inside the Hard Rock Hotel, Vanity Nightclub is a 14,000 square-foot venue that features two marble bars, 50 intimate booths, an outdoor terrace with cabanas, fire pit, and offers direct access. An eclectic jewel box, Vanity is adorned with pearls and hand cut crystals fused with bronze and gold, surrounded by antique mirrors, rubbed brass and black chrome. The startling sumptuousness of velvets, deep satins and rich tapestries add to the gleaming textures throughout the club, creating a perfect backdrop of reflective brilliance. The heartbeat of the club is a cyclone chandelier with over 20 thousand lit crystals bringing the dance floor to life.
PLEASE NOTE:
This trip is open to all ages, Under 21 must be accompanied by an adult.
Vanity Nightclub (Welcome Party) is for ages 21 AND OVER, valid ID required. Anyone under the age of 21 will not be admitted.
Vinyl Nightclub (Performance) is ages 6+ Under 21 must be accompanied by an adult.
All events, dates, show venue, party venue, etc. are subject to change at any time at our sole discretion.
Travel packages do NOT include airfare or transportation to and from the airport.
Bedding preferences are not guaranteed.
Cancellation Policy : This Runaway Tours package is NON REFUNDABLE / NON TRANSFERABLE, SORRY NO EXCEPTIONS!
PRICE:

$2,910.00

USD
PER PERSON (PACKAGE FOR 2)