Sydney Bon Jovi - No Hotel Single (Package for one)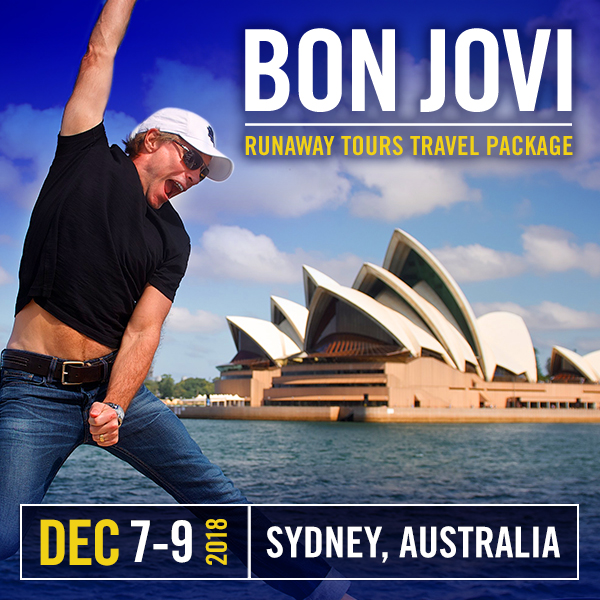 CANCELLED
Details
Runaway Tours With Bon Jovi To Sydney, Australia
WHERE:
Sydney, Australia
WHEN:
Friday, December 7th – Sunday, December 9th, 2018
PRICES:
$2,420.00 per person Single Occupancy
$2,070.00 per person Double Occupancy (This Package is for 2 people)
$1,770.00 per person Single Package (No Hotel Option)
$1,520.00 per person (No Hotel, No Show Ticket)
(Schedule / Events / Locations are all subject to change)
All Prices are in US Dollars
(Schedule / Events / Locations are all subject to change)
TRIP PACKAGE INCLUDES:
Private "Runaway Tours" Q & A with members of Bon Jovi
Photo Op With Jon Bon Jovi, and members of Bon Jovi grouped by Travel Package – Single And Doubles
Day One – Welcome Party Cruise on the harbour With DJ, Food and Drinks (December 7th)
Day Two – Premium ticket (Sections A5, A6, A7 – Rows 13-24) to the Bon Jovi Concert at ANZ Stadium, Sydney / Australia (December 8th)
Day Two – Early entry and Sound Check at the Stadium
Care Free Transfers Transportation to and from the Concert
Autographed Photo Of Jon Bon Jovi
Specially Designed Trip Credential
Custom Trip Lanyard
Fully Escorted By Our Runaway Tours Staff
Additional Details
About Fusion Cruises – www.fusioncruises.com.au
You will experience all of the greatest in style, luxury and fun when you cruise through Sydney Harbour with Fusion Cruises. When you are on board the luxury catamaran cruise boat you will experience great excitement. Fun and see the gorgeous sites of Sydney.
PLEASE NOTE:
This trip is open to all ages, Under 18 must be accompanied by an adult.
Local age restrictions apply. At events where alcohol is served, guests under 18 may not be admitted & no credit will be given.
All events, dates, show venue, party venue, etc. are subject to change at any time at our sole discretion.
Travel packages do NOT include airfare or transportation to and from the airport.
Bedding preferences are not guaranteed.
Cancellation Policy : This VIP package is NON REFUNDABLE / NON TRANSFERABLE, SORRY NO EXCEPTIONS!
PRICE:

$1,770.00

USD
PER PERSON