Miami Beach Jon Bon Jovi - No Hotel Single (Package for one)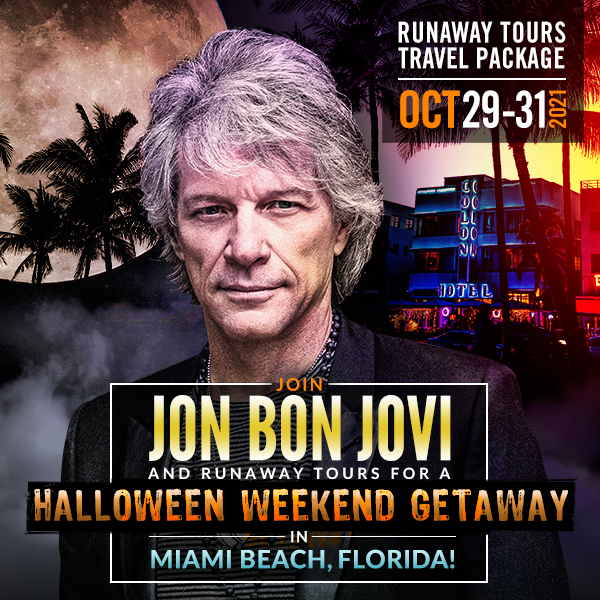 SOLD OUT
Details
Runaway Tours with Jon Bon Jovi to Miami Beach!
WHERE:
Miami Beach, FL
WHEN:
Friday, October 29th, 2021 – Sunday, October 31st, 2021
PRICES:
$2,195.00 per person Single Occupancy
$1,950.00 per person Double Occupancy (This Package is for 2 people)
$1,650.00 per person Single Package (No Hotel Option)
All Prices are in US Dollars
(Schedule / Events / Locations are all subject to change)
TRIP PACKAGE INCLUDES:
Halloween Costume Welcome Party with incredible prizes for the best costumes
Admission to an Intimate Acoustic Storyteller Performance and Q&A with Jon Bon Jovi
(1) Photo opportunity with Jon Bon Jovi – Grouped by packages, Singles and Doubles
Exclusive autographed photo of Jon Bon Jovi
Special trip laminate
Custom event lanyard
Special Runaway Tours Gift
Fully escorted by Runaway Tours staff
All taxes/resort fees included in the price
Additional Details
PLEASE NOTE:
Available for purchase as single occupancy, double occupancy, and single package without hotel accommodations only.
All events included in this package will comply with CDC and Miami-Dade County COVID-19 guidelines and protocols.
This trip is open to all ages.
Guests under 18 must be accompanied by an adult.
All events, dates, hotel location, show venue, party, venue, etc. are subject to change at any time at our sole discretion.
Travel packages do NOT include airfare or transportation to and from the airport.
Bedding preferences are not guaranteed.
All guests will receive (1) photo with Jon Bon Jovi based on their package purchased. Single packages will take a photo alone with Jon, while Double packages will take their photo with Jon and their guest; no exceptions.
COVID-19 Cancellation Policy: In the event that a Runaway Tours guest(s) tests positive for the COVID-19 virus on or after October 15th, 2021, you MUST notify Runaway Tours staff immediately by emailing info@runawaytours.com. Upon receiving documentation of the positive test result, Runaway Tours will refund the full price of the trip purchased. The safety and well-being of our guests and staff are our top priority and we will look forward to welcoming you on a trip at a later date. Refunds will not be issued for reasons other than a positive COVID-19 test result.
If you are not fully vaccinated A NEGATIVE COVID TEST IS REQUIRED TO ATTEND EVENTS.
Test results will be accepted via a paper print out FROM CLINIC or electronically on your mobile device. Tests should be taken no more than 72 hours prior to check in date. Your test results need to show the following:

– Your results need to be in English.
– Your name, as it appears on your Passport or Driver's License needs to match the name on the test results.
– The date the test was collected. Again, no more than 72 hours prior to check in date.
– We will accept all forms of PCR & Rapid Covid testing.
– Your test result must show: "Negative".

If you are fully vaccinated, you can provide us with proof of vaccination via your vaccine card or State approved vaccine tracking APP. NO PHOTO COPIES OF CARD

– Name on your vaccination card must match the name as it appears on your Passport or Driver's License.
– Name on the APP must match the name as it appears on your Passport or Driver's License.