Las Vegas Jon Bon Jovi - Single (Package for one)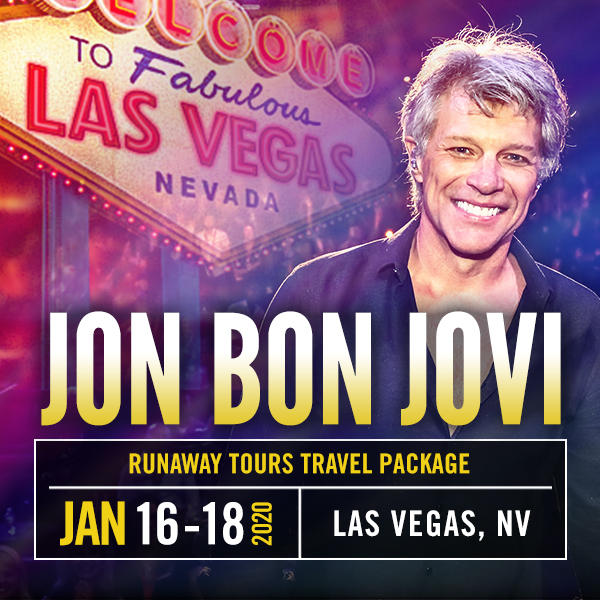 CANCELLED
Details
Runaway Tours with Jon Bon Jovi To Las Vegas!
WHERE:
Las Vegas, Nevada
WHEN:
Thursday, January 16, 2020 – Saturday, January 18, 2020
PRICES:
$2,220.00 per person Single Occupancy
$1,995.00 per person Double Occupancy (This Package is for 2 people)
$1,745.00 per person Single Package (No Hotel Option)
All Prices are in US Dollars
(Schedule / Events / Locations are all subject to change)
TRIP PACKAGE INCLUDES:
Three days/two night's luxury hotel accommodations at Caesars Palace Las Vegas Hotel and Casino
(Check in-January 16; Check out-January 18)
Admission to a Welcome Party including food and beverage
Admission to an acoustic storyteller performance and Q&A with Jon Bon Jovi inside the intimate Absinthe Tent
(1) Photo opportunity with Jon Bon Jovi – Grouped by packages, Singles and Doubles
A ticket to a showing of Absinthe at Caesars Palace (Ages 18+)
Exclusive autographed photo of Jon Bon Jovi
Special trip laminate
Custom event lanyard
Special event branded gift
Hotel Internet Wi-Fi Included
Fully escorted by Runaway Tours staff
All taxes/resort fees included in the price
Additional Details
About Caesars Palace Las Vegas Hotel and Casino – www.caesars.com/caesars-palace
As famous as Las Vegas itself, Caesars Palace is the best-known casino resort in the world – and with good reason. What began as a grand casino honoring the indulgent luxuries of ancient Rome has somehow evolved into something even more spectacular with unlimited things to do.
Absinthe at Caesars Palace is a fantastical blend of carnival and spectacle, featuring wild, outlandish acts performed on an intimate, circular stage where the audience is as close to the action as you can possibly get. Recently named by Las Vegas Weekly as "the #1 greatest show in Las Vegas history", Absinthe is the provocative but unforgettable variety show which delivers that 'only in Vegas' experience you came looking for. https://youtu.be/peyWcz7QhBc
PLEASE NOTE:
Available for purchase as single occupancy, double occupancy, and single package without hotel accommodations only.
This trip is open to all ages.
Guests under 18 must be accompanied by an adult.
Local age restrictions apply. At events where alcohol is served, guests under 21 may not be admitted & no credit will be given. The Absinthe show is strictly 18+, no exceptions.
All events, dates, hotel location, show venue, party, venue, etc. are subject to change at any time at our sole discretion.
Travel packages do NOT include airfare or transportation to and from the airport.
Bedding preferences are not guaranteed.
Cancellation Policy Disclaimer: This VIP package is NON REFUNDABLE / NON TRANSFERABLE, NO EXCEPTIONS!
PRICE:

$2,220.00

USD
PER PERSON